The Smart Helmet Clip is an industrial-grade wearable device that facilitates safer productivity in heavy industries using simple binary communication and a suite of onboard sensors. This work was produced while I was a staff designer at Cortex Design Inc.
Project: Smart Helmet Clip
Team: Cortex Design.
Client: Deloitte
Role: Research, concept development, prototyping, mechanical design, rendering, CMF

The rugged device clips onto the brim of approved safety helmets and uses the onboard sensor array to read worker location, motion, and presence of any dangerous gasses. The device also a simple binary communication system to answer quick visual alarms and queries. The data is relayed to the control center to provide real-time asset monitoring thereby allowing for quicker decision making and immediate response to any accidents underground.

The design had to be simple but rugged to withstand the hazards of the environment over a 10+ hour shift. Afterward the device would be detached from the brim and returned to a docking station to recharge the battery - similar to the handheld radios that are already in use. User flow steps:



Step 1:The worker is notified by visual alarm that a harmful gas has been detected by the onboard sensor.

Step 2: The worker immediately stops their task, acknowledges the alarm by pushing the pulsing green button and heads to a muster point.

Step 3: The recorded data is reported to the control center where they can plan to solve the issue knowing their workers are no longer in danger .





Before we began developing concepts our team executed an in-depth ethnographic study to better understand the worker, the equipment and the mining environment. We spent hours deep underground observing workers PPE, daily operations, communication, and interaction with tools and vehicles. The mining environment is dark, dirty, noisy and wet and it can be very difficult to get someones attention while they are carefully completing a task. The challenge was to design a device that could stand up to the environmental factors, and offer optimal usability for workers wearing full PPE - heavy duty gloves, eye protection, hard hats and high-viz clothing.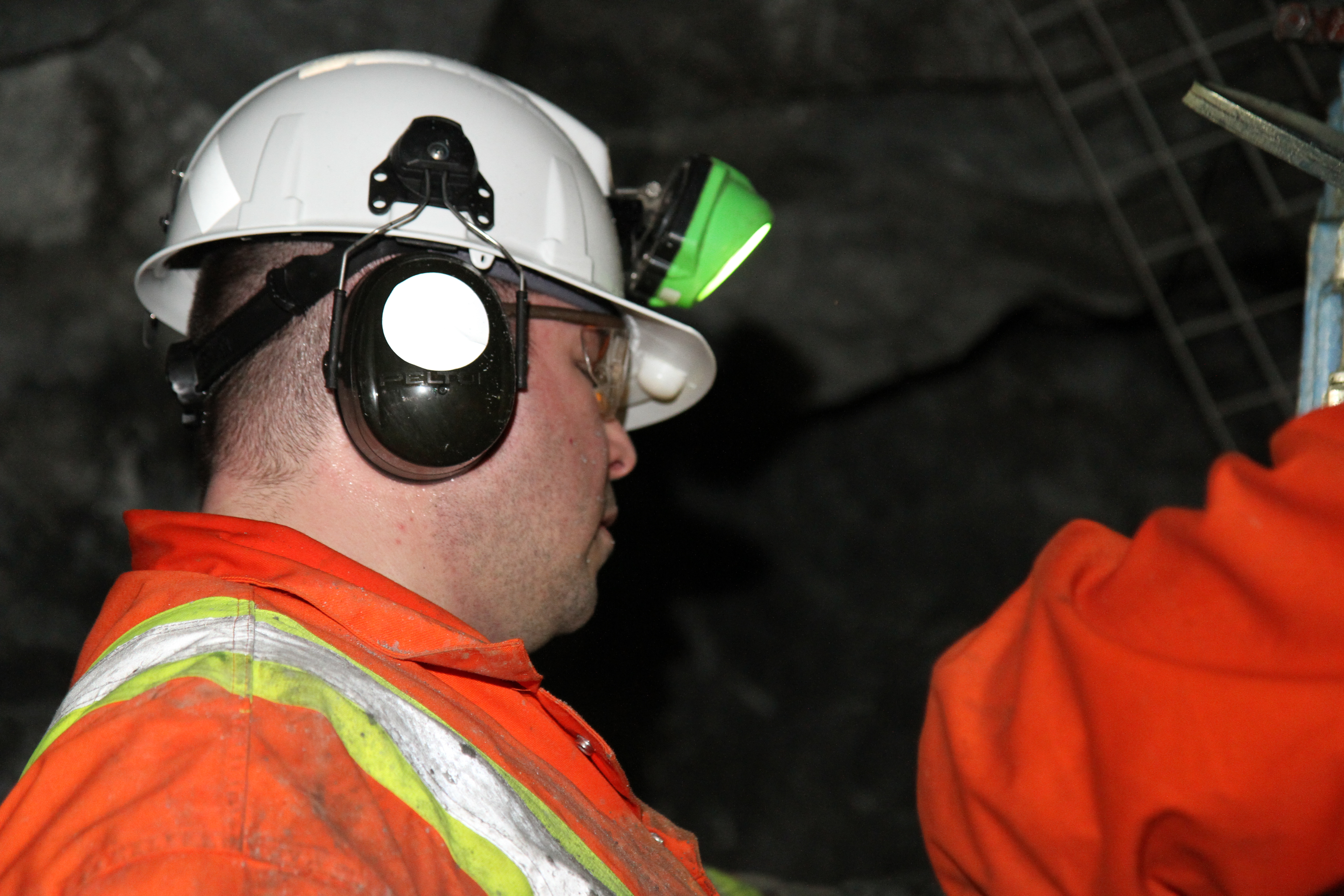 We outfitted the workers with simple prototypes to better understand which concepts worked best. We quickly learned that the best way to communicate information to a worker in the middle of a complex, noisy task was through a brim-mounted visual cue.



© 2023 Borys Chylinski / All Rights Reserved